Helping You Bring
Your Dream Garden to Life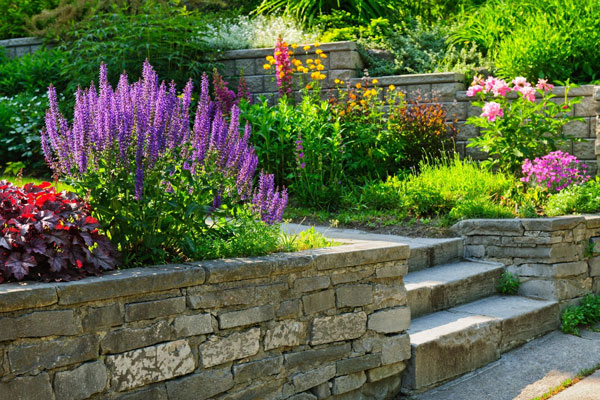 Having a master plan before any construction begins will create results that appear seamless and effortless. Gerard will come to your home and talk to you about the style of yard you're looking for, as well as paying special attention to your own personal lifestyle. For Trees landscapers design with a sense of permanence that will leave an indelible impression on your family and visitors to your home. As our motto states, we create "Landscapes for Living".
Through the use of computer design, you can see a sketched landscape layout of what your home might look like before any work is ever started. Our landscape professionals are skilled and experienced in many procedures such as laying paving stone or sod, plant selection, and pond building.
We will visit with you first, get to know what you like and what you don't like, and then get started! In addition, we can give you addresses of yards we have designed, so you can slip over and have a look at other ideas you might like to incorporate into your new yard.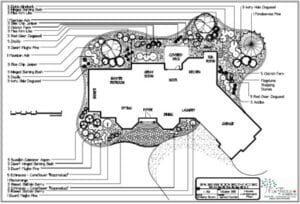 The For Trees Landscaping Department has grown over the last year, and we are pleased to present samples of our designs. If you have any questions, please call us at (403) 335-8965 or 1-877-390-TREE.
Click the links to view PDFs: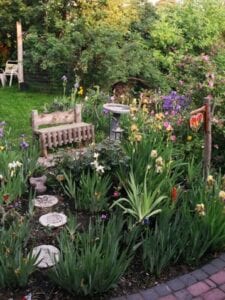 Our Design Service offers plans for small or large properties. Whether you want a simple planting plan or full landscape site plan, we can provide professional sketches, incorporating your thoughts and ideas into the final concept.
A computerized design can give you an idea of what your yard can look like. Gerard is a Certified Landscape Technician in Installation and a Journeyman Landscape Gardener. He will make sure every possible combination is considered. With For Trees Company, the designer is also the installer, which makes things a lot easier when it comes to your time involvement. From start to finish, you will have one team dedicated to your project.
Once you have decided on the final design, we will prepare an estimate for you, one that will include everything we talked about at our meetings. We will begin gathering the plants, boulders and stones, and other needs as soon as you have agreed to the plan. If you have sketched out the design yourself, we will be pleased to quote on the installation only.
For Trees accepts Mastercard and VISA, as well as cash and personal cheques, so progressive payments on your project are very convenient. Installment plans can be arranged, if necessary. With For Trees Company Ltd., the designer is also the installer. We will do our best to put together your landscape in a timely fashion, weather permitting, of course. Whatever size your landscape project is, big or small, you know the job will be done right, on time, and within budget… guaranteed!
We can even work on your yard while you're on summer holidays, so when you return, you'll be greeted by a beautiful yard, welcoming you back home!
Go from this… to this!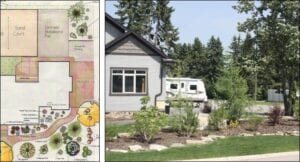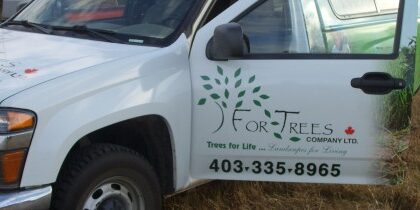 The sound of a burble of water rushing over stones, a splash as it tumbles over a rock formation. Obviously, we love creating beautiful natural water features. In fact, recreating nature with waterfalls, streams, and ponds is some of the most rewarding work we do.
In 2009, For Trees Company received the Award of Excellence from Landscape Alberta in the "Residential Landscape for Water Features" category. The Acme, Alberta client was also thrilled with the end result. We would like to offer you the same experience for your yard or garden.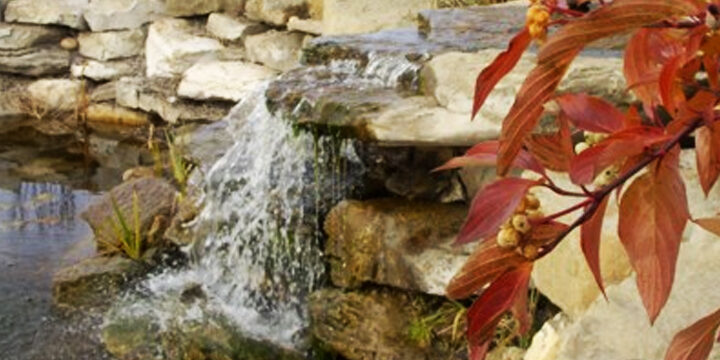 In landscape architecture and garden design, a water feature can include fountains, pools, ponds, cascades, waterfalls, and streams. Water is the Earth's most vital resource, and people are naturally drawn to the soothing sights and sounds it affords.
Water gardens, aquatic gardens, and backyard ponds have all become very popular and will transform your outdoor living space into a beautiful paradise where you can relax, unwind, and enjoy quality time with family and friends. Waterscapes become the focal point of any garden with their melodious tunes and natural ability to attract a variety of birds and butterflies.
Water is woven into landscapes across the country as people bring a little piece of paradise to their own backyard. Real estate agents, development officers, travel agents… they'll all tell you that people love water! People flock to the ocean, plan fishing trips months in advance, and talk about their upcoming cruise on a daily basis. Trouble is those activities are over before you know it. Why not bring some of that tranquility home by adding a beautiful water feature to your own backyard?
Imagine sitting in your own yard alongside a cool stream or bubbling fountain, the calming sounds of water washing away all stress and anxiety. Imagine a clear pond filled with colorful koi fish and lilies just outside your kitchen window. Call For Trees Company today for a design consultation.
Landscapes are more than just arrangements of plants and mulch. To be really functional, a landscape needs hardscaping: ponds, decks, patios, and pathways. A new deck quickly expands your useable living space. Besides decks, a gazebo or trellised area can provide a cozy nearby getaway to relax and entertain under. Then, we have the barbecue area, a necessity for outdoor enthusiasts in Alberta. We can do a lot with paving stones—patios, steps, walkways. Just ask!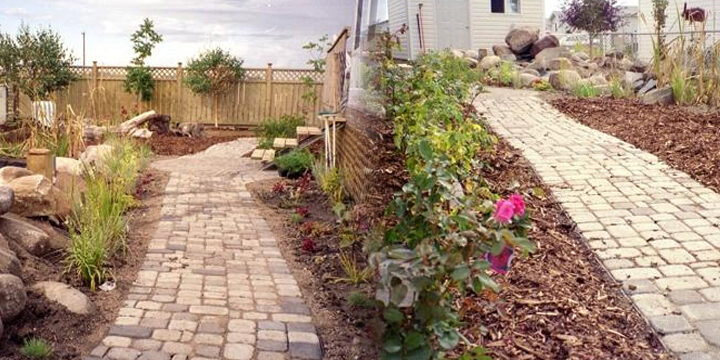 You don't have to mow a patio!
One of the first things the For Trees landscapers will ask is what you want from the space. Are you looking for a patio that will allow you to enjoy meals and conversation with friends and family? Do you prefer a more secluded patio that serves as a haven where you can enjoy some quiet moments?
Maybe you're a sun lover and want an open patio. Maybe you want to enclose it in a sunroom. Do you want to include a firepit or a patio bar? Or do you want to turn your backyard into a tranquil spa, complete with a hot tub and shady cabana or a pergola?
Next, we'll discuss the materials and designs that will match the house. For instance, a stucco home with a concrete patio may not look as nice as one with a tiled patio.
Some different types of patio pavers include flagstone, brick, concrete, and tile. Patio stones are perfect for a natural, country-style, romantic look, come in great blended colors, and often give the old weathered look of natural stone. Our installers are experienced at fitting and installing stones; whether you want a herringbone pattern, a weave, circle, or something modular, we will give you the patio you've always dreamed about.